Baby Talk: A Q&A With Georgina O'Farrill
Anne Clendening
April 10, 2015
by Anne Clendening
Georgina and I were at a bridal shower the first time the idea of doing a blog for Two Hearts came up. I was beyond excited. Within a minute I had 100 questions I wanted to ask her about babies, and giving birth, and midwifery (pronounced mid-WIFF-er-ee—which gives me the giggles), and getting pregnant (probably without the juicy details) and all things about new, beautiful life being brought into the world.
We sat down on a Wednesday afternoon at Two Hearts, and had ourselves some baby talk.
_____________________
"I love what I do… What's not to love? I love the mommies, I love
the bumps, I work in a room with beautiful women, and I don't
mean just on a physical level—I mean energentic, gorgeous beings
creating life. I walk around barefoot, I wear comfortable clothes,
I listen to the music I love… I love my moms, I love my babies and
I think it's the greatest job ever."
______________________
So you have a new blog on your web site! What will you be talking about?
We will be talking about all things pre- and postnatal yoga, yoga for the family, yoga for kids and yoga for everybody! I'm excited to be offering new things at Two Hearts, including core yoga for postnatal women to help them get back into their body. And I'd love to offer a restorative yoga class.
Where are you from?
I  was born in Mexico City, and raised in New York. I came to L.A. when I was 32.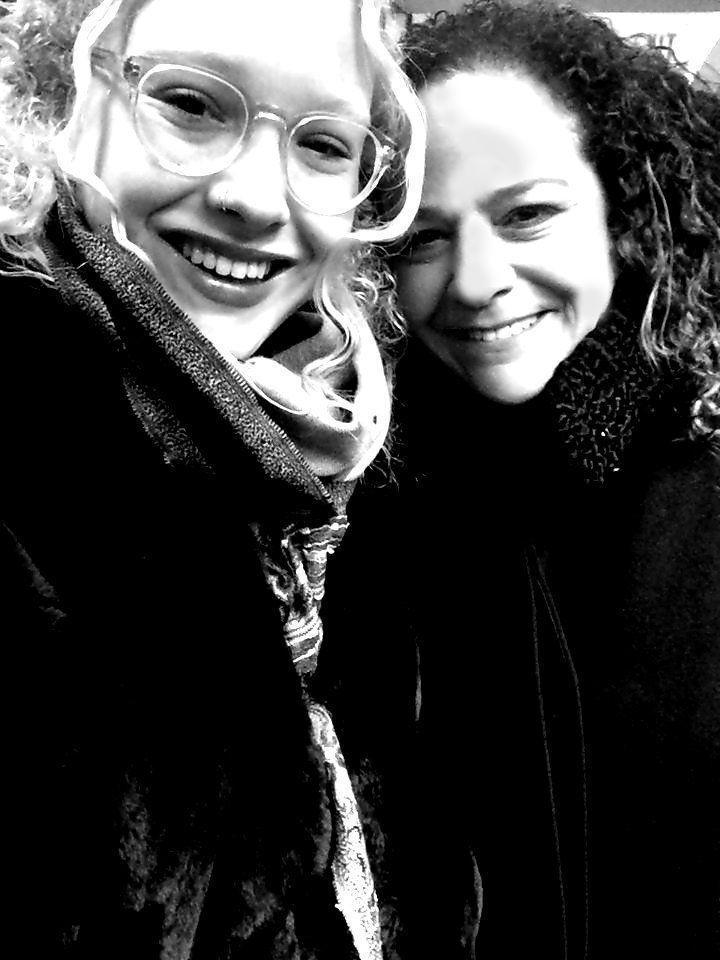 And you have a daughter…
Yes, Isabel. She'll be 21 on June 4th.
Did you go natural when you had her, or did you get an epidural?
I got an epidural. I was in labor 19 hours! I wanted to go natural, but I was induced. I was at 35 weeks when I gave birth; she wasn't getting enough nutrition and my fluids were low, so my doctor thought it was better to bring her out and get her on the boob, so she could gain weight fast. She just wasn't gaining enough weight in utero—she was born at five pounds.
Do you have an opinion on the drug-free, midwife-free no hospital trend in births?
I think if you are in good health, and you have a really good midwife, I would advocate for home birth. It's a controversial subject… Some people are really more comfortable in a hospital, and some people really want to do the home birth. If I had to do it over again, I would've loved to have attempted a home birth. It just wasn't that available to me at that point in time.
Do you see more home births these days?
Well, because I work with a midwife at the studio, I see a lot of couples come in for home births so it does seem more common to me. They usually have a hospital standing by if they need it, and a midwife and a doctor with them as well. Beth Cannon, our midwife at Two Hearts is one of the only ones who will deliver a baby in breech, in conjunction with an obstetrician.
Do you find it's difficult for women to get pregnant these days?
There are women who are waiting later in life to get pregnant, and there's a possibility they can have difficulty. But at the same time there are a lot of older women getting pregnant these days in their late 30's, early 40's.
What seems to be the biggest obstacle?
Part of it is waiting longer. The chances of getting pregnant go down after the age of 35, along with any medical issues they might have.
How does yoga help?
We do offer Yoga For Fertility at the studio, a methodology that Brenda Strong originated and is taught here by Wendy Obstler. Once they go through that workshop, it's in line with the protocol of their doctor, or their fertility specialist or gynocologist. I don't know what the rate of success is, but I do know that we've had several women get pregnant after coming to Yoga For Fertility and coming to prenatal yoga classes. People do have fertility issues… I always wanted to get pregnant again, but I never did. But we didn't go through any heroic measures, because we already had three kids between us.
What are three key poses for staying comfortable during pregnancy?
Cat/Cows are great, especially for women who are in active labor. Any kind of squatting is great to release the lower back and open up the hips, so we concentrate a lot on hip opening. Strengthening poses are good as well, like any of the warrior poses. In my opinion, going through labor and giving birth is tantamount to running a marathon, and I feel like my students—and women in general—should have access to strength, flexibility and their breath, and it's especially important to know in your mind that if you're in an uncomfortable situation, such as a contraction, that it soon will be over, and they just need to ease and breathe into it. And that's what yoga teaches us to do.
Do your prenatal students already have a yoga practice?
Some students have a yoga practice prior to coming to prenatal; a lot of students come to prenatal as their first yoga experience because they've heard it's great for their pregnancies. I've had some come to prenatal before they get pregnant because they want to be around the energenics of it.
You must have seen a ton of mothers come through the studio.
I've been teaching prenatal women now for… 15 years? A long time! A lot of what I do is instinctual, having been pregnant myself, and a lot of it comes with a lot of training.
I love what I do. I love the whole process. I love when they come in with their babies. I've seen babies from six weeks old in Mommy & Me classes, and they stay until about
they're about two and a half, three years old, then they move on to their own classes. I love supporting young families, and I love supporting women.
Thank you, Georgina! ❤
Georgina has completed three yoga
teacher trainings: Power Yoga with Brenda Strong, a YogaWorks training with Maty Ezraty and Lisa Walford and one with Naime Jezeny, Sue Elkind and Noah Maze at City Yoga.
An informed and creative teacher, Georgina's style and her unique approach to pre/post-natal yoga have made her an extremely popular teacher, with pregnant students traveling from all over the city to attend her classes. She has also taught workshops and teacher trainings based on her extensive pre/post-natal teaching experience.
❤ ❤ 
Anne Clendening was born and raised in L.A. She is a yoga teacher, a writer and occasionally slings cocktails in a Hollywood bar. Be her friend on Facebook if you dig. Her website on all things life, yoga and other stuff is Anne Clendening Yoga. Peace, Love & Beatles ❤